Distinguished Teacher Brian Engstrom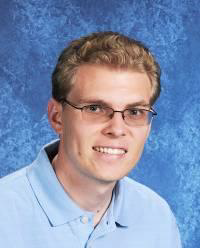 Don Antonio Lugo High School
Chino Valley Unified School District
Geo., Probability & Stats, Engineering
9-12 Geometry, Probability & Stats, Engineering
Math

What advice would you give to people considering a career in teaching?


The best advice I can give a new teacher is to take some time after school to watch student activities such as plays, sports, or other activities. Attending school events can help you see a different side of your students. Plus, they like to know that their teacher cares enough to come and see what the students are interested in.
What's the best thing about teaching?


The best thing about teaching is the "aha" moment, when students who have traditionally struggled with math finally see all the concepts connect. It is a very rewarding feeling to see students walk away with a newfound confidence in their mathematical ability.
Back to
Our Distinguished Teachers